Program Description
Gain knowledge and practical skills to work as a team member with clients, families, nurses, physicians, and other support services
Gain hands-on experience through professional practice placements in Indigenous community health care agencies under the supervision of instructors and preceptors
Learn the legislation that is relevant to the role of a PSW including the Human Rights Code, Child and Family Services Act, Occupational Health and Safety Act, Worker's Compensation Act, and the Long-Term Care Homes Amendment Act.
YEAR 1
Term 1 
CLIN10088 – PSW Professional Practice 1
COMM10380 – Communication for Personal Support Workers
HSCI10188 – Foundations 1
HSCI10235 – Structure and Function of the Human Body
HSCI10259 – PSW Lab 1
INFO10288 – Informatics in Health Care
Term 2 
CLIN10089 – PSW Professional Practice 2
HSCI10192 – Mental Health
HSCI10193 – Palliative Care
HSCI10236 – PSW Lab 2
HSCI10248 – Community-Based Simulation
HSCI10249 – PSW Foundation 2
HSCI10250 – PSW Supportive Care Theory
Admission Requirements
OSSD or equivalent (Mohawk Academic Upgrading, GED) including: 

Grade 12 English, C or U equivalent
Tuition and Fees
Total 1st Year Fees $4,390.01 * Based on 2022-2023 Domestic Tuition and Fees
PSW intakes (April and Sept) are Tuition Free with Clinical Stipends and Educational Supports! For more information contact finaid@snpolytechnic.com.
Media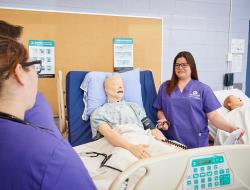 Next Steps
Details
Accrediting Institution
Mohawk College
Program Length
1 Academic Year
Next Program Intake
April 2023 and September 2023
Credential Type
Ontario College Certificate
Contact