On September 20, 2023, Six Nations Polytechnic gathered in honour to celebrate the protectors of our culture and present the title of Indigenous Knowledge Guardian to twelve exceptional persons who have strived towards enriching and revitalizing our languages, history and ways of being. It has been a tradition at SNP to recognize individuals in this way with a gathering of gratitude. The individuals are formally recognized as Eihwanǫ́sdá:s (Ca.) or Yerihwanonstats (Mo.) (Indigenous Knowledge Guardian). This term is linked to the concept of rafters for protection – so this is someone who protects the matters – all of our concerns.
The Indigenous Knowledge Guardians are acknowledged knowledge holders that we hold to the highest regard. They have spent a lifetime of learning about our sacred practices and ceremonies, traditional ways, history and have demonstrated a commitment to passing on Indigenous knowledge to the next generation, living through the principles of the Good Mind, and are fluent language speakers.
Six Nations Polytechnic continued the celebrations with acknowledgement and appreciation to Associate Professors and Community Scholars who have dedicated their time to learning and creating resources that will assist in revitalization developments.
The Associate Professors Ehyadǫ̱hsraędei (Ca.)  or Yehyatonhserayente:ri (Mo.)   (those who know things that have been written down or recorded visually) are educators who have an ongoing collaboration with SNP's learning community. These individuals have shared goals of building Indigenous academic and research capacity while bridging academic research with sustainable community development. They have provided Indigenous students access to academic expertise and mentorship in an environment that is conducive to their cultural safety and empowerment.
The Community Scholars Eihwaędei (Ca.) or Yerihwayente:ri (Mo.) have extensive Hodinohsó:ni' knowledge in specific areas of our ways of knowing, living and being. They are committed to learning and sharing their valuable teachings to ensure longevity in keeping our traditions alive.
SNP is grateful to these individuals and pleased to recognize them in this way.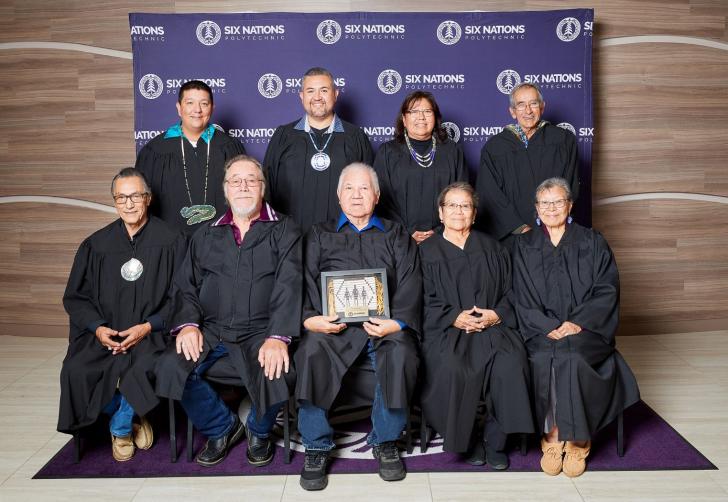 Photo by Mark Burnham
Indigenous Knowledge Guardians
Barb Garlow
Bill Williams
Gloria Williams
Joyce Johnson
Larry Bomberry
Scott P.R. Hill
Joanne Longboat
Frank Miller
Ronnie Thomas
Cleveland Thomas
Eddie Thomas
George Johnson
Associate Professors
Dr. Kevin White
Dr. Darren Thomas
Dr. Talena Atfield
Dr. Ki'en Debicki
Community Scholars
Richard Hill
Raymond Skye
Kahentakeron Deer
Makasa Looking-Horse
Michelle Thomas
Elan Henhawk
The contributions made by the Indigenous Knowledge Guardians, Associate Professors and Community Scholars have been foundational to SNP's ability to offer programming in our languages, including the Honours Bachelor of Arts in Ogwehoweh Languages and the Bachelor of Arts in Ogwehoweh Languages, and to actively participate in language revitalization and cultural recovery occurring in Six Nations of the Grand River territory and other Hodinohsó:ni' communities.
SNP also reflected and acknowledged the Indigenous Knowledge Guardians who have embarked on their next journey and commends their legacy that they have left.
Ima Johnson, 2008 – April 20, 2019
Lottie Keye, 2008 - December 25, 2017
Hubert Skye, 2008 - October 2016
Frances Froman, 2008 - July 13, 2010
Evelyn Bomberry, 2008 - December 13, 2010
Nora Carrier, 2010 - October 2016
Arnold General, 2010 - April 2016
Manuel Johnson, 2010 – August 18, 2022
Alfred Keye, 2010 – September 14, 2022
Jim Styres, 2010 – August 29, 2018
Germaine General-Myke, 2013 – June 17, 2023
Betty Henry, 2015 – October 31, 2018
Art Johnson, 2015 – March 8, 2021
Gloria Sky, 2015 – March 12, 2021
Share this Content: