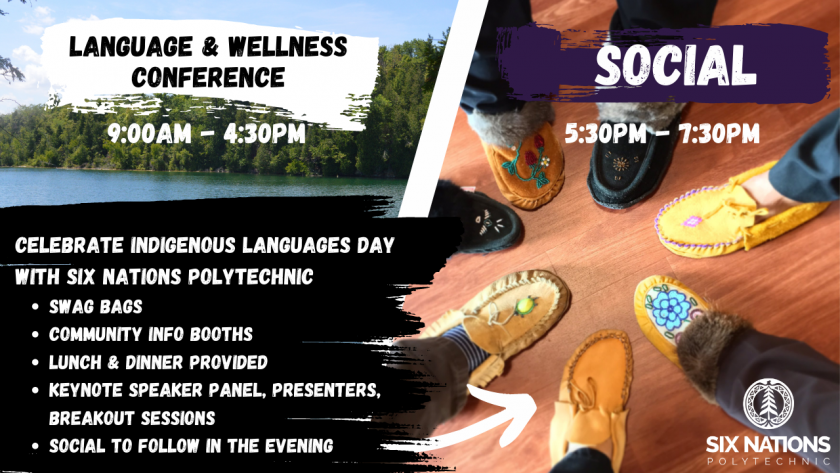 Join us in person on March 31, International Languages Day, for a full day of exploring language and wellness at the Six Nations campus. The conference will cover presentations related to implementing language and wellness, teaching techniques, hands-on workshops, and a keynote speaker panel of knowledge holders discussing language, wellness, and sharing words of encouragement. See the agenda below for more details. Additionally, participants will choose from one of four hands-on workshops to gain a deeper understanding of the interconnectedness of language learning and sustaining and creating personal wellness in the process.
Local organizations will be set-up for attendees to get to know about their language & wellness initiatives.
Swag bags, door prizes, and a catered lunch will be provided.
Location: Grand River Room, Six Nations campus
Agenda:
9:00 am – 9:10 am

Ganǫhǫnyǫhk (Opening)  

9:00 am – 10:00 am

Teaching Through Storytelling – Tania Henry   

10:00 am – 12:00 pm

Language & Wellness Keynote Panel

12:00 pm – 1:00 pm

Lunch

1:00 pm – 2:30 pm            

Workshops

Note: Selection is based on a first come first serve basis until full on the day of the event  

Cycle of Ceremonies & Songs – Shelby Bomberry  
Planting & Making Your Own Terrarium – Tania Henry 
Our Sustenance, Wellness, & Making Mush – Jessica Bomberry  
Ganǫhǫnyǫhk, Mindfulness & Watercolour Painting – Stevie Jonathan  

2:30 pm – 3:30 pm

Teaching the Root Word Method – Shelby Bomberry  

3:30 pm – 4:25 pm            

SNP's Language Plan – Stevie Jonathan   

4:25 pm – 4:30 pm

Ganǫhǫnyǫhk (Closing)  

5:30 pm - 7:30 pm
Social and dinner