Program Description
This course introduces students to the written words of Haudenosaunee women through the author's lens and voice. Innovative content will speak to topics of traditional women's roles, rights, culture, truth and reconciliation, residential schools, life and death, education, family traditions, healing. Topics will explore past and present realities and the power of writing to elicit political, spiritual, and educational messages. Guided learning and interactive content will engage learners to develop a greater awareness of the historical contributions and lived experiences of Haudenosaunee women. The aim is to increase the learner's understanding and appreciation of the richness and power of the words of Haudenosaunee women, and the role of literature as a tool to reflect and shape perceptions of ourselves and those who share Mother Earth with us.
By the end of this course learners will:
understand historical and contemporary perspectives related to ancestral stories, traditional practices, lived experiences, and kinship relationships;
identify explicit and implicit themes and commonalities within the writings and make connections to real-world issues;
appreciate the influence of Haudenosaunee women's literature as an educational, politician, informative, and educational medium;
recognize the contributions made by Haudenosaunee women writers to cultural continuity, spiritualism, resilience, truth, and reconciliation;
comprehend how an author's voice reflects a specific genre and is an effective means of reaching the desired audience; and
foster increased understanding between Indigenous and non-Indigenous worldviews.
Course dates/times: Tuesdays
October 26th to November 16th (inclusive)
synchronous activities run from 6:00 - 7:00 PM
Instructor: Connie McGregor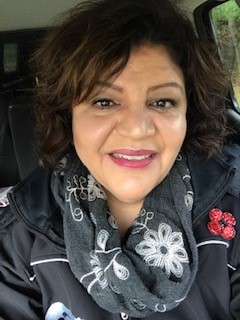 Connie (Bomberry) McGregor was born and raised at Six Nations of the Grand River Territory. She is a lifelong educator who has taught students in elementary school and in university. Connie currently works at SNP STEAM Academy as the Community Outreach Coordinator. She believes that the community that we belong to has a significant impact on the people that we become. The stories and the dialogue from the people contribute to one's development as contributing members of their culture and society.
Connie's first teaching job was in Kashechewan, a fly-in Cree community on James Bay. It was here that she was fully welcomed to a community other than her own. A few years later, Connie and her husband became a part of another community, Walpole Island, also known as Bkejwanong Territory. Connie returned to Six Nations and has been a Special Education teacher and consultant at the Federal Schools. She has been the Lifelong Learning Coordinator for Six Nations where she researched and reported the educational needs of its members. Connie instructed two classes for 3 years at Brock University: Indigenous Mothering and Motherhood and Indigenous Women's Literature: Empowerment and Activism.
She holds a master's degree in Curriculum Design from the University of Windsor and a Bachelor of Education from Trent University/Queen's University Concurrent Education Program. Connie is happily married, is raising one awesome teenaged daughter and has the honour of being an auntie to four nieces and two nephews.